Toilets & Bidets
The play of shapes and voids on the toilets and bidets gives the impression of looking at small ceramic buildings as seen from above. Available in wall-hung, floor standing, closecoupled models, they are designed to blend discreetly into the bathroom space.
The heigth of toilets and bidets is designed for greater comfort (420 cm) and the material is gentle and pleasing to the touch. The Rimless Vortex® technology is super functional, offering the lowest possible noise emission and water consumption. Its exclusive antimicrobial Supraglaze® glazing makes it difficult for dirt to adhere to the surface while being ultra-hygienic and easy to clean.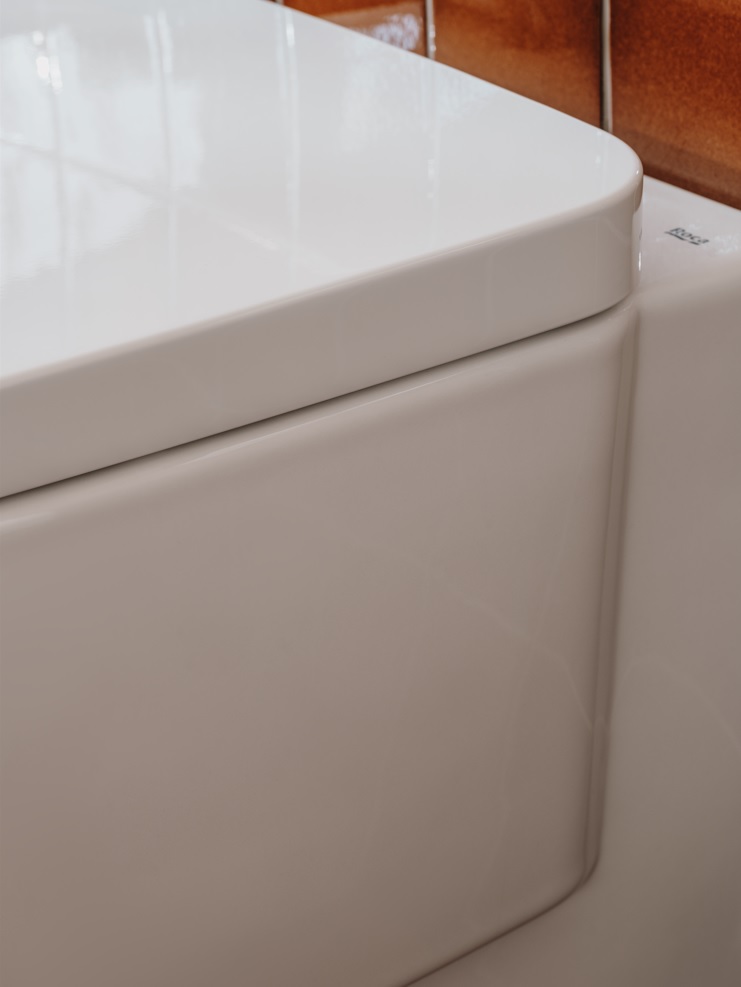 ✓ Dual-flush Roca Rimless® Vortex technology for optimized flush performance, noise reduction and aerosol reduction.
✓ Supraglaze® antimicrobial glazing for extra and optimal hygiene.
✓ Wall-hung solutions with hidden fixations.
✓ Floorstanding toilets and bidets with 42 cm height for greater comfort.
✓ Soft-close removable seat and cover made of duroplast.
Wall-hung Roca Rimless® Vortex WC (A346696..0)
Roca Rimless® Vortex / Hidden Fixation / Soft close / Quick release
Seat and cover: A801E52..1

Wall-hung Roca Rimless® WC (A346697..0)
Roca Rimless® / Hidden Fixation / Soft close / Quick release
Seat and cover: A801E52..1

Back to wall single floorstanding Roca Rimless® WC (A347697..0)
Roca Rimless® / Extra Height / Soft close / Quick release
Seat and cover: A801E52..1

Back to wall close-coupled Roca Rimless® WC with dual outlet
Roca Rimless® / Extra Height / Soft close / Quick release / 4,5/3L
Dual flush 4,5/3L WC cistern with bottom inlet: A341691..0
Seat and cover: A801E52..1

Wall-hung bidet (A355695..0)
Soft close / Hidden fixation
Bidet lid: A806E50..1

Back to wall bidet (A355697..0)
Soft close / Extra height
Bidet lid: A806E50..1

Finishes

Explore all product categories