Innovation and Design
The Group's Innovation and Design Policy has shifted in the last two years in order to maintain a constantly updated and attractive product offer, tailored to the preferences and needs of each market and aimed at capturing new business opportunities. To do so, this function was integrated into the value chain through more coordinated work between the Design, Marketing and Production units, avoiding the cost of new industrial developments and accelerating time to market.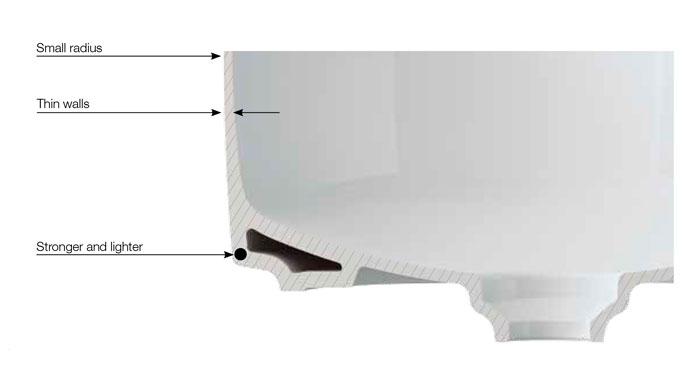 FineCeramic: 100% ceramic material which allows slim designs and unique shapes and details.
The innovation and design unit has established a multidisciplinary and multi-site structure with centers worldwide under the coordination of the central Roca Design Center unit. In 2014, this network incorporated a new research and design team in China (RDC-China) aiming to ensure better support for local product development and closer collaboration with technology providers in the region. An example of a specific development for the Asian market is the successful launch of the Alba smart toilet, which integrates In-Tank and In-Wash — exclusive Roca technologies — and demonstrates this market's preference for high-tech products. To make headway in the development of smart toilets (one of the main challenges in the sector), the Roca Design Center has incorporated into its facilities in Gavà new test bench equipment which complement the facilities already available in the Taiwan plant.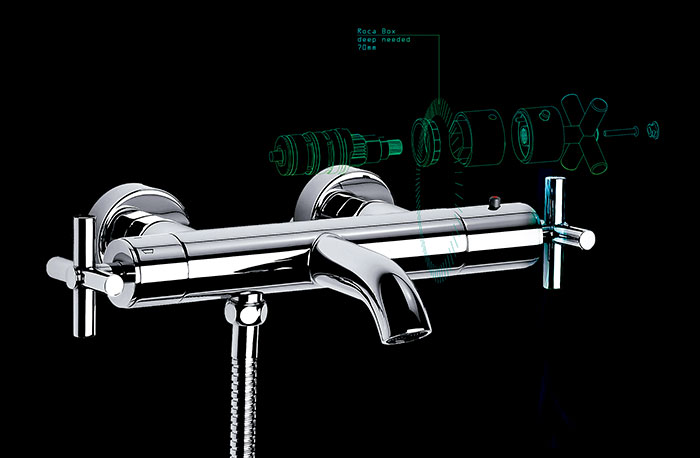 Another example of innovative solutions between Group brands is adapting the Saphir Keramik technology, developed by Laufen, to Roca brand products in FineCeramic, the new generation of high-quality ceramic. These ceramics allow for designing extremely light and slim sinks with shapes and specifications unimaginable until now. The material results in savings of 30% in raw material while maintaining the structural and hygienic properties of ceramics. Roca developed the Inspira collection from these materials, presented at the ISH 2015 fair, and Laufen launched the Val by Konstantin Grcic and Ino by Toan Nguyen series. Both series were presented in prototype stage at the Salone del Mobile in Milan in April 2014. This type of presentation — along the lines of concept cars for vehicle manufacturers — involves designers and architects in product development, extends the product launch impact and enhances brand positioning among key prescribers.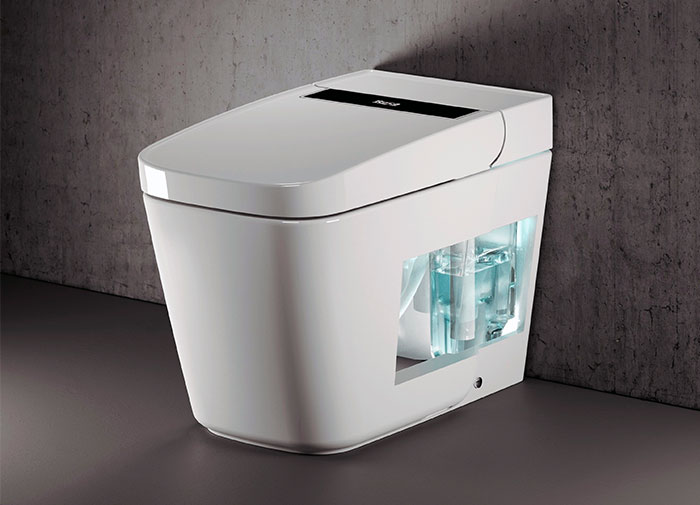 In 2014 the company completed development of the new Surfex and Stonex materials based on resins and inorganic fillers, which combine physical properties such as durability, resistance, non-toxicity and easy repair with new aesthetic possibilities, aimed at maximum customization: unlimited forms, new colors and textures, and cut-to-size formats, adapted to the available space and user requirements. These materials were used for various collections including the Modo collection, featuring sinks, bathtubs and shower trays manufactured entirely in Surfex and Helios and Terran shower trays, made with Stonex.


The 2014 launches include other innovative solutions that are worth highlighting. They are designed to improve the user experience in the bathroom space, meeting all comfort, health and hygiene, water saving and versatility standards which the Group applies to all its brands and product categories. In terms of faucet breakthroughs, worth noting are the Roca Box universal module for recessed shower and sink faucets and shelves added to shower faucets and columns. Of note also is our water-saving advances, including cold start technology, electronic and timed faucets for public use spaces and the implementation of the Water Label. In other categories, in addition to the new customization options already mentioned, we highlight the use of LED lighting and audio with bluetooth technology in furniture collections, new touchless flushing systems for wall-mounted toilets and shower trays with non-slip surfaces, among many others.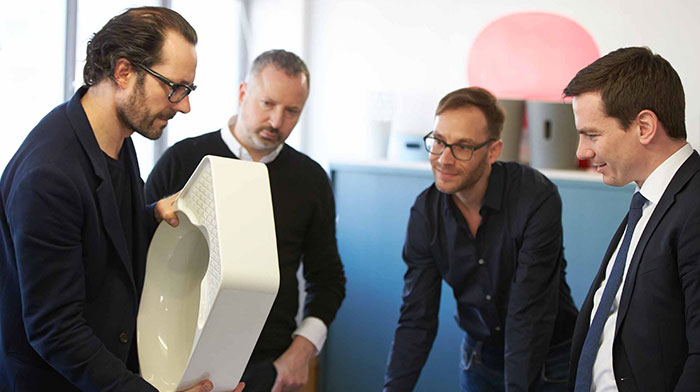 Finally, the Innovation Lab collaborated with the Water, Sanitation and Hygiene Division of the Bill & Melinda Gates Foundation, in research with various development centers and through participation in the Reinvent The Toilet Challenge fair, held in Delhi (India) in May. We have continued to sponsor collaborative activities in 2014 with design schools, and have promoted contests such as the Roca One Day Design Challenge in Barcelona and Madrid, and Bathroom Innovation Awards, organized by the Australian distributor Reece.