Fairmont Taghazout Bay Morocco
FAIRMONT TAGHAZOUT BAY, MOROCCO
An important collaboration with a leading luxury hotel chain and award-winning, international architecture and interior design firms, entailed a respect for the natural surroundings as well as a thoughtfully integrated design approach that considers sustainability and energy saving considerations. The Fairmont Taghazout Bay reflects the beauty of the Moroccan landscapes, Berber culture and embodies a welcoming approach to hospitality. In a celebration of local materials and artistry, much of the interior design techniques and finishes have been sourced from Taghazout and surrounding towns – minimizing importation where possible. With two Morocco-based Roca factories, most of the products used in this project were also locally produced.
---
Project type

Luxury Hotel

Location

Taghazout, Morocco

Architects
HKS Architect with Moroccan architect Abdessamad
Achrai, Interior designer, Richard Cruz | Senior
Technical Designer, Wimberly Interiors | designing
experiences
Roca expertise

Specification, quoting

Roca Products

The Gap clean-rim wall-hung WC, Duplo concealed carrier with flush plate PL2 grey, Debba basin with semi-pedestal, L20XL basin mixer, Loft bath mixer, Loft 3-hole basin mixer, L20 wall-mounted shower mixer with accessories, Be-Fresh bidet shower, Lanta-N built-in mixer, Raindream shower head with ceiling arm, Sensum hand shower, Stella slide bar, In-Drain channel, Ariane bathtub, Hotels towel hook, Hotels towel rail, Hotels toilet roll holder, Hotels spare toilet roll holder, Hotels magnifying mirror with lighting, Access grab bar, Access wall hung WC with seat, Access folding grab bar.
---
Context: A luxury retreat that captures the essence of Moroccan culture

A luxury 5-star resort overlooking the bay of Taghazout, a laid-back surf town on the Atlantic Coast of Morocco. With a focus on wellness, service and family-friendly environments, the project integrated naturally with its surroundings, establishing an intimate paradise in which clients could relax and enjoy. The architecture firm, HKS, one of the leading firms for high end hospitality, worked with Wimberly Interiors, who took many influences from the local Berber culture when putting together their designs. Reflective of the rocky landscape, sand and sea, the interior design is light and fresh with accents of inky, Moroccan blue throughout. With strong ties to the Berber patterns of the region, geometric shapes are featured heavily in the property's soft furnishings. The hotel was one of Conde Nast Traveller's 2022 Hot List.
We wanted to partner with a respected name in the bathroom space that would not only understand our vision for the project but provide excellent service, top products, and the benefit of having much of it locally produced
Rachel Johson, Senior Vice President and Studio Director for WATG's London office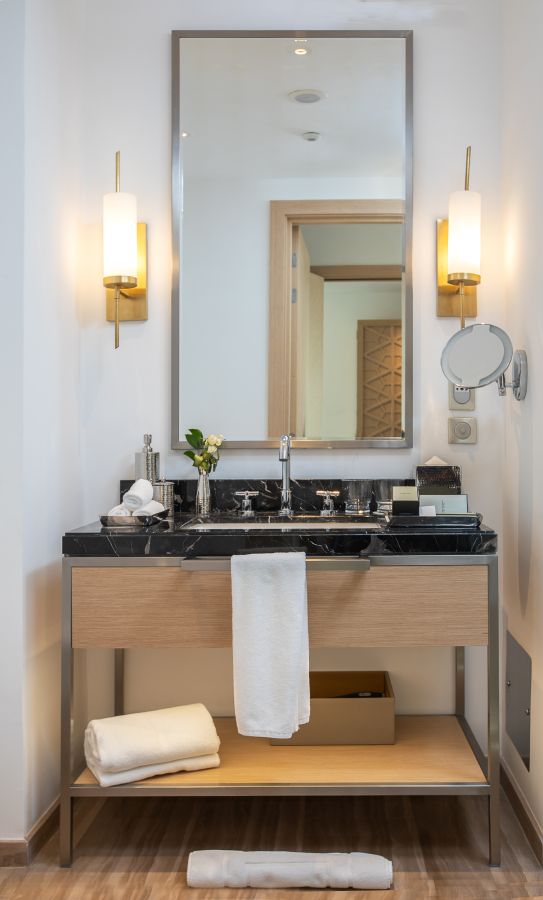 Commission: Elegance and sustainability as key references

The resort is designed to be an oasis of calm and beauty and so are the 146 rooms and suites that are scattered across the property. Here, rooms are like a sanctuary, and that includes the bathroom space, which is why Roca was called on for its expertise. This required bathroom hardware and furniture that fit the demands of being elegant and adaptable, as well as with a focus on sustainability and water and energy saving. Located in a quiet region, near the desert, water is a critical concern, therefore the commission for efficient products was one of the reasons the collaboration with Roca was initiated. Products needed to be able to sustain high- impact use, adaptability and accessibility. Another important factor was Roca's two-Morocco based factories which produced most of the ceramics used in this project. Roca's international presence allows it to be a global player when it comes to providing for larger hospitality and commercial projects.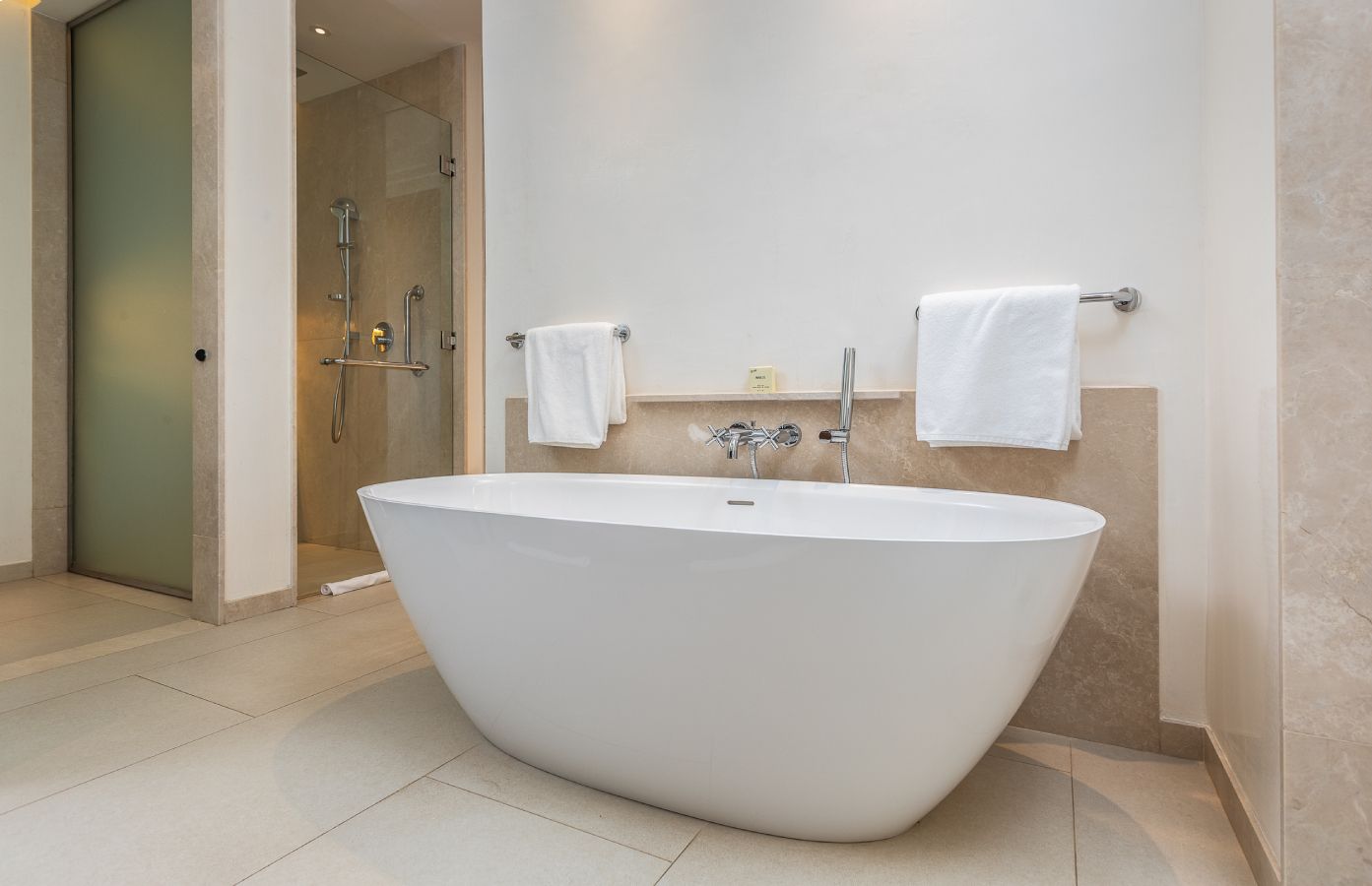 Collaboration: Leading industry players share a vision

Working with award winning hospitality design and architecture firms, as well as a leading luxury hotel chain, reflects on Roca's high standing in the industry. The project, which in total took nearly 8-years to complete and was opened in 2021, considered every last detail in its design. This was true for the bathroom spaces as well; from chrome finishes to statement bathtubs, the Fairmont Taghazout Bay project included a variety of Roca products, including the Access white basins, the refined Ariane Stonex bathtub, the Debba white wash basin, the electronic sensor Loft faucets, the Atlas chrome faucets with cold start technology and the Raindream shower head, among many others. Products were used in the rooms and suites as well as in public spaces across the resort's property.
Completion: An experience of wellness and wellbeing
The importance of wellness translates throughout the hotel. Taking time for personal care and having thoughtful moments is an important element to the experience of the Fairmont Taghazout Bay. Rejuvenation, shared memories, discovering the beauty of Morocco are all encapsulated in the design and décor of the hotel, from the poolside lounge to the impressive bathroom in the breathtaking villas.