Roca will display a perfect merge of smart living, sustainability, and Mediterranean design at ISH2023
13/02/2023
From March 13-17, 2023, Roca will present its latest bathroom collections, product innovations, and cutting-edge technologies at ISH Frankfurt (hall 3.1, stand C69), the world's leading trade fair for HVAC and water.
For this first edition following the Covid pandemic, Roca collaborated with Spanish architecture studio Mesura to create a booth inspired by Mediterranean light and architecture. The Barcelona-based studio's design reflects Roca's commitment to its industrial leadership and Mediterranean origins and encapsulates the company's core values while presenting the full spectrum of new bathroom solutions.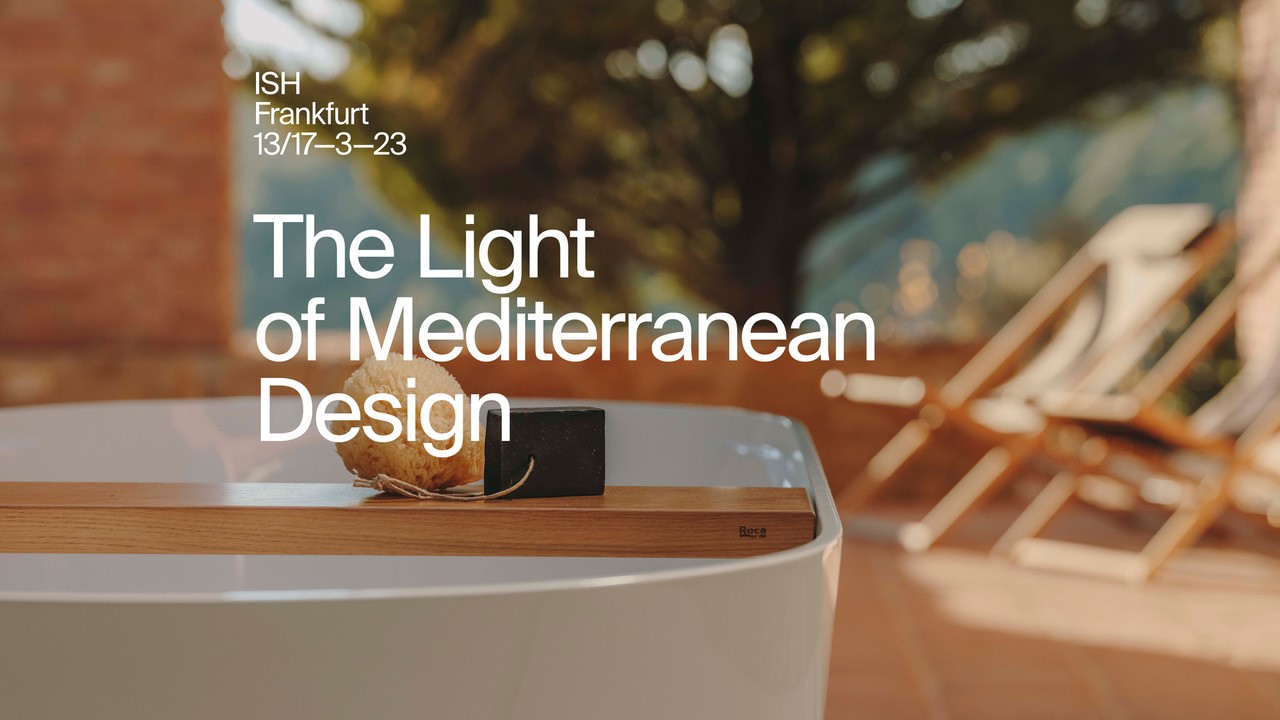 Mesura's design was inspired by some of Barcelona's iconic twentieth century architects and their way of using light, simple materials, and powerful architectural gestures. Roca's most recent collections and innovations are displayed around a central patio, reminiscent of the typical "plaza", where visitors can meet and interact. Shutters, another essential element of Mediterranean architecture, play an important role in the design of the stand. Arranged in such a way to allow visitors to get a glimpse of Roca's products from the outside, while creating an intimate atmosphere on the inside with the play of light.
Three new collections are infused with Mediterranean simplicity and will be presented for the first time at ISH 2023:
Tura Bathroom Collection
Roca's newest collection, Tura, is a collaboration with Catalan designer Andreu Carulla. It is an exclusive bathroom collection with a robust and harmonious design, which unites volume and void and carefully balances shadows and light.
Ona Bathroom Collection
Ona is a versatile and highly functional bathroom collection that will be presented for the first time at ISH. Quintessentially Mediterranean, Ona embodies the philosophy of simplicity with soft shapes and pure lines.
Nu Faucet Collection
A colourful and original faucet collection designed by Studio Inma Bermudez completes Roca's new range of collections. Returning to the simple forms and reducing their essential expression, Nu faucets come in a combination of shapes and colours to unleash the imagination and create a personalized bathroom space.
Marc Viardot, Roca Group's Corporate Marketing and Design Director comments: "The three new collections Ona, Tura and Nu represent the consistent further evolution of the Roca brand. We enrich this Mediterranean aesthetic with ground-breaking innovations and the latest technologies for smart bathrooms. At this year's ISH, we are thus providing an insight into the future of the bathroom."
Commitment to technology:
Smart toilets
The In-Wash Insignia smart toilet is just one example of Roca's dedication to innovation and state-of-the-art technology. In addition to its many impressive functions, this smart toilet features a new drying technology with directed air jet (using the Coanda effect) and can be connected to Roca Connect via a mobile app.
Roca Connect is a digital platform for smart bathrooms, which integrates several other devices to help improve facility management. With Roca Connect, maintenance costs and water consumption can be controlled and reduced.
Other topics at ISH:
Universal Design and barrier-free solutions are on Roca's radar. The company will showcase the Access range at this year's ISH and present future solutions in terms of health monitoring for an ageing society.
Bathroom furniture
A furniture unit can completely transform the look and feel of a bathroom space, adding function, order, and practicality. As Europe's leading manufacturer in bathroom furniture, Roca will proudly display seven new furniture collections at Messe Frankfurt.
Ruy Ohtake design collection and luxury bathroom collections from the cooperation between the Armani and Roca Groups.
The organic basins by Brazilian architect Ruy Ohtake caused quite a stir in the design world inspiring product solutions for design-oriented bathroom planning.
The globally successful cooperation between the Armani and Roca Groups will also be honored: the holistically designed premium bathrooms have found their way into many international hotel and architectural projects and will be shown at ISH.