Tura Collection: shaped by architecture
13/03/2023
Roca's collaboration with Andreu Carulla results in a collection that pays homage to Barcelona's 20th century architecture
The complete bathroom collection is in dialogue with the pure functionalism of Barcleona's lead-ing architects and Roca's Mediterranean heritage.
The firm and renowned local designer Andreu Carulla share an appreciation for the local architecture of Sert, Coderch, Miralles, and Bofill, as well as their Mediterranean character. Using very simple materials, these Barcelona architects created powerful architectural gestures and combined beauty with functionali-ty and simplicity. Roca's new collection thus finds inspiration in some of the architectural features of its hometown, Barcelona, home to some of these architects' most iconic buildings.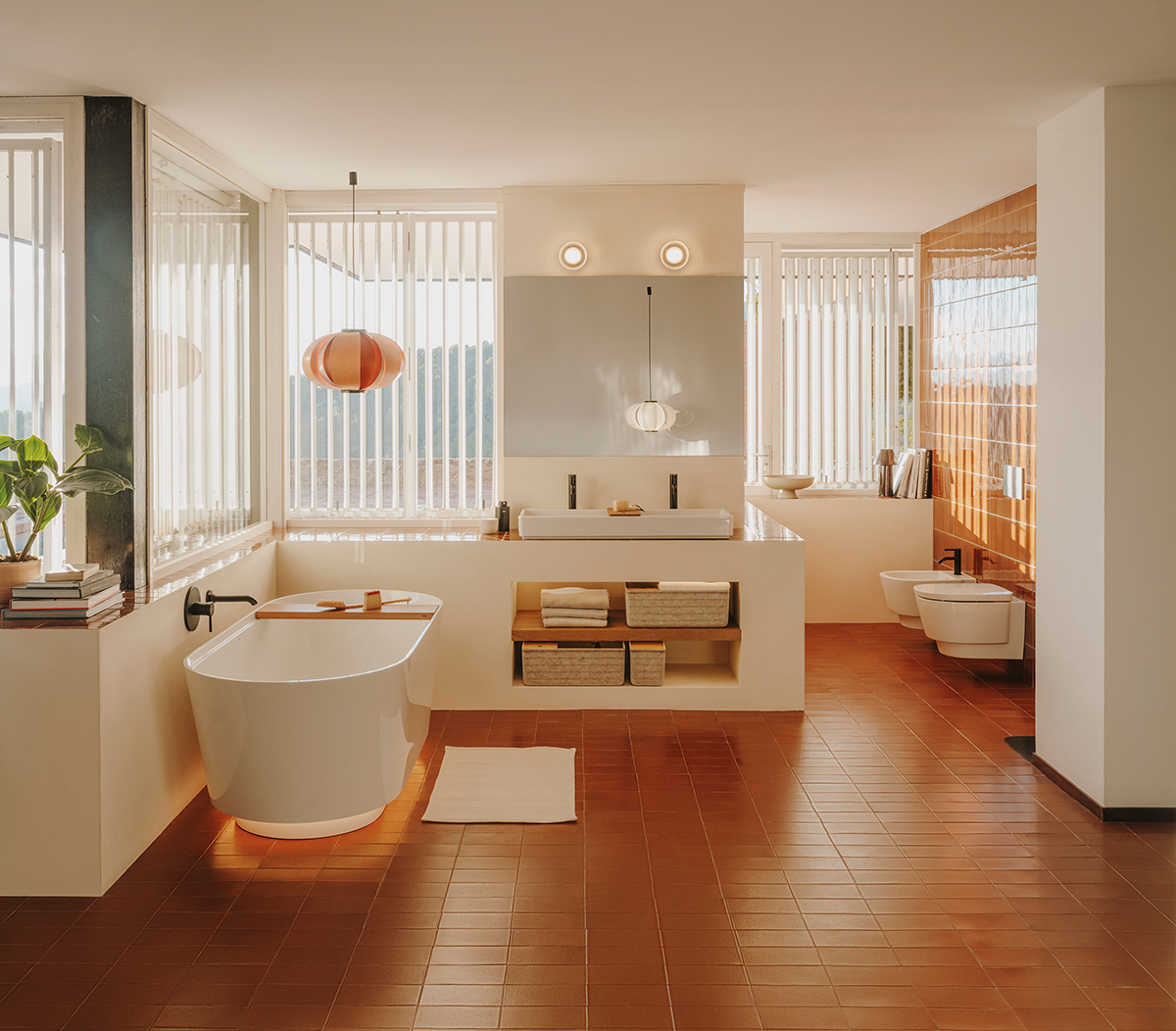 When designing Tura, Andreu Carulla was inspired by the Mediterranean light and the play of shadows created by pergolas and shutters, characteristic elements of Mediterranean architecture, and by the pure geometry volumes and voids. It is no accident that the collection is named after the ending of the Spanish version of two profoundly interconnected words: arquitectura and cultura. Architecture as an essential part of Barcelona's culture.
The design of the TURA collection is simple and restrained, with smooth contours, and the occasional use of wood and recycled materials in the complements. The storage boxes are made from recycled felt, and replicate the shadows produced by shutters and pergolas, a motif that can also be found on the side of the ultracompact washbasin. The recycled cork lid can also be used as a tray for the washbasin. The bathtub includes a headrest made from recycled fabric and a tray made of certified wood. Despite its seemingly simple appearance, even the smallest decorative gesture in Andreu Carulla's Tura collection is meant to fulfill a clear function.
A design that pays attention to details and functionality, Tura is tailored to meet the needs and tastes of the most discerning users. It includes washbasins, bathtubs, toilets, bidets, bathroom furniture, and com-plements. As with all of Roca's products, Tura also features some of the latest technologies and materials for maximum comfort and with sustainability in mind. This includes the Roca Rimless® Vortex solution, which optimizes water flow and flushing efficiency, and the Supraglaze® surface treatment for maximum sanitation. One of the main innovations in the collection is the concealed drain on the washbasins.
All ceramic products come in gloss and matt white finishes, and the furniture is available in off-white, ter-racotta, and grey. Tura furniture is made from durable materials and has natural and modern finishes with an infinite number of storage options. The result is a versatile collection that works in both rustic spaces and minimalist bathrooms.
In the Catalan designer's own words: "I always wanted to work with Roca because they make incredible high-quality products. In addition, the use of ceramics and geographical proximity made it a perfect match. Later, I discovered we spoke the same language".